Knowledge for a better life and profitable business
I know how this program has helped me and I know that I can help anyone improve his or her life or business. 
For most of my life I've been doing what comes easiest to me. I was conditioned to think like that. I always had the ability to fix things because I learned how to do that when I was very young. I learned how to fix things because I played with Mechano sets and Tonka toys.  I was always good with my hands. My father was a tool and die maker and he taught me a lot on how to shape metal. Well just about any material for that matter.  I was trained, or trained myself to be a mechanic.
I went into automotive mechanics right out of high school and stayed in that career for 23 years. I didn't enjoy it too well. I think I must have had 20 jobs through out that time. When I stopped growing I got dissatisfied with the job and went on to find another so that I could find out more. That stopped happening about 10 years ago.
I decided to go back to school and gain more knowledge in a new career. I became a Certified Engineering Technologist and went to work for the best forestry equipment manufacturer in the world. At the beginning it was a lot of fun learning how to do things the company way and creating new shapes with Computer Aided Design (CAD) software. Sort of like virtually shaping metal. But about 5 years into it, I realized that I was beginning to be dissatisfied again and I really didn't know what to do about that.
One day I was at my workstation trying to get motivated into accomplishing my tasks and I was feeling like crap. I was tired. I was down. I disliked what I was doing and not having any support or new ideas from the engineers was making my job seriously difficult. I was feeling like this for far too long and sat back in my chair and in frustration exclaimed, "I have to DO something to STOP this!" out loud.
I don't know what I set up in the universe with that vibration but the circumstances that occurred less than a month later lead me to discover Thinking Into Results.
I am a Photographer. I have a passion for creating incredibly beautiful images and as it turns out I'm really good at it. A few short weeks after my frustrated exclamation I attended a photography workshop up in Tobermory to study Landscape, Travel and Sunset/Sunrise photography where I met a fellow Photographer for the first time.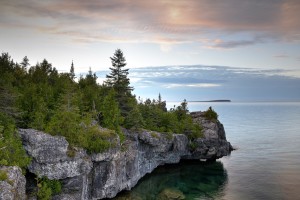 When he walked into the room, I could tell there was something different about this guy. He had a presence that totally captured the room. During the evening we were conversing about life and relationships. I was sitting on one side of the dining room table and the Photographer and another student were sitting across from me listening to what I was saying. The conversation was going along pretty well, I thought, when both the student and photographer sat back, pointed their fingers at me and almost in stereo said, "You don't know who you are." It shocked me. I felt like crying. They were so right. I didn't know who I was. I became aware that I was lost.
From that point on I started to hang out with the other Photographer to find out what he was doing. To find out what he knew that I didn't. That's how I found out about Thinking Into Results (TIR). My intuition has served me really well all my life and this was no exception.
When I got back to Brantford I contacted the Photographer's TIR Facilitator and started studying a few weeks later. There has been such a profound change in my life.  My income has doubled, my love life is amazing, my social life is incredible and I sleep like a rock.  Now I have to share this knowledge with anyone who'll listen. That's why I've become a Certified TIR Facilitator.
The knowledge that I am gaining I am actually using everyday. I'm a work in progress and my life is AMAZING! I live in gratitude for that. My attitude has never been better and I have traded bad habits for good ones.  I now know that my purpose in life is to help others discover the knowledge that will lead them to have the fulfilling life that they deserve to have.
So what are you waiting for? Let's get started.
Jump over to my Contact page and lets set up an appointment for a free consultation.  Don't forget to download your free gift, 6 Keys to Unlocking Personal Achievement.
steve.bredschneider@me.com
(519) 209-1779
---
Connect with me Online!